FY 11 NOPP Funding Announcement
Implementation of the U.S. Integrated Ocean Observing System
---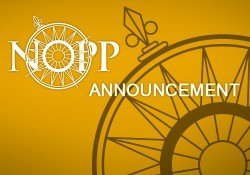 Funding Opportunity Number: NOAA-NOS-IOOS-2011-2002515
Announcement Type: Initial
For funding beginning in FY 2011, the National Oceanographic Partnership Program (NOPP), the National Oceanic and Atmospheric Administration (NOAA) and its partner agencies – the National Aeronautics and Space Administration (NASA), the Office of Naval Research (ONR), and the U.S. Department of Energy (DOE) welcomes research proposals for coordinated regional efforts that further the U.S. Integrated Ocean Observing System (IOOS).  The partner agencies are particularly interested in projects that provide timely and appropriate information to public mission agencies at the national, regional, state, local, and tribal levels, and that address integration across regional and national agency priorities.
Proposal may address one or more of the following topic areas:
Topic Area 1:  Continued Development of Regional Coastal Ocean Observing Systems
Topic Area 2:  National-Scale Efforts Toward Verification and Validation of Observing Technologies
Topic Area 3:  Improved and Routine Production, Stewardship, and Application of the Group for High Resolution Sea Surface Temperature (GHRSST) Data
Topic Area 4:  Observational Data for Migratory Species on the Outer Continental Shelf to Inform Permitting and Licensing for Offshore Renewable Energy Facilities and to Contribute to Basic Knowledge of Marine Mammal Behavior and Ecology in this Habitat
Applicants are invited to submit proposals for one or more of these topic areas.
NOPP, through its partner agencies, expects to fund multiple awards (anywhere from 10 to 21 awards), in multiple topic areas, in amounts ranging from $200,000 to $4,000,000 per year for up to five years, contingent on availability of funds each year.
This FFO is open to institutions of higher education, non-profit and for-profit organizations, and state, local and Indian tribal governments.  For all NOPP-funded activities, team efforts are required among at least two of the following three sectors: Academia, industry (including Non-Governmental Organizations of NGOs), and government (including State and Local).
Full proposals must be received by http://www.grants.gov, postmarked, or provided to a delivery service by 5 p.m. (EDT) on October 1, 2010.
For questions regarding this announcement, contact: Regina Evans, NOAA IOOS; 1100 Wayne Avenue, Suite 1225, Silver Spring, Maryland 20910; or by phone at 301-427-2422, or by fax 301-427-2073, or via e0mail at Regina.Evans@noaa.gov.
The following link provides further information about this FFO: http://www07.grants.gov/search/search.do;jsessionid=h3nwMLRKHHLhy1Bt4LSMd1tVSHs9LykpP2QT1sGxhdQCyt2mwvfN!-941014384?oppId=55954&mode=VIEW.