Argo Global Ocean Project Takes Underwater Monitoring to a New Level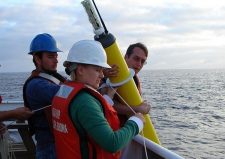 Across the world's oceans bob 3,500 free-floating instruments. Every ten days, the probes descend to 1,000 meters, drift, descend to 2,000 meters, and then rise to the surface. Along the way, they record up to 1,000 measurements of temperature, salinity and other key parameters. When the probes resurface, they beam the data up to satellites.
(From Gimby / Brooks Hays) — The Argo Program, as it's known, aims to give scientists a more comprehensive understanding of the world's oceans than ever before.
Late last year Argo logged its one-millionth "profile of the upper 2,000 meters of the ocean," according to the National Oceanographic Partnership Program. What makes it different from other research projects is its ability to continuously monitor the ocean, according to Argo co-chair Dr. Dean Roemmich of the Scripps Institution of Oceanography.
"Argo has moved oceanography from the realm of regional data collection to global and systematic observation of the subsurface oceans," Dr. Roemmich said in a statement.
Argo is a collaborative effort involving 28 countries; the U.S. is the largest single supplier of probes to the project. Scientists at U.S. Naval Research Laboratory, the National Aeronautics and Space Administration, the National Oceanic and Atmospheric Administration and elsewhere use the data to predict ocean behavior, forecast weather, and track climate change.
Now the program plans to send newly-designed probes to depths of 4,000 or even 6,000 meters in hopes of better understanding the ocean's changing characteristics.
Teledyne Webb Research's newest probe, the APEX, recently set a record off the coast of Hawaii's Big Island by descending to well below 4,000 meters, as Hyrdro International reports. Telednye builds most of the program's probes.
Want to dip your toe in some ocean science? Argo data is freely available on the project's website.