NOPP Program Update: July 2017
On July 14th, the NOPP Program was excited to publish the 2018 Broad Agency Announcement (BAA #N00014-17-S-B016). The BAA solicits research proposals within three ocean research and technology topics of mutual and emerging interest to numerous federal agencies. The BAA may fund up to $18.5 million for research projects lasting up to five years. The three ocean research and technology topics are as follows: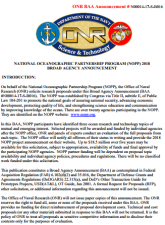 Topic 1. CubeSat Sensors for Investigating Littoral Ocean & Atmospheric Dynamics;
Topic 2. Improved & Routine Production, Stewardship and Application of the Group for High Resolution Sea Surface Temperature (GHRSST) Data;
Topic 3. In-situ Ocean Sensor Research & Technology Development;
      3A. Power Reduction and/or Miniaturization of In-situ Ocean Sensors and Improved On Board Processing (Arctic/ Antarctic to Tropical and full water column);
      3B. Sensor Research & Advanced Technology;
            3B1. Soft Matter Electronics and Ocean Sensors;
            3B2. In-situ Ocean Sensors for "OMICs";
            3B3. Next Generation Autonomous In-situ Ocean Sensors;
      3C. Improving Technology Readiness Levels of Existing & Emerging Autonomous In-situ Ocean Sensors;
If you are interested in submitting a proposal to the 2018 Broad Agency Announcement, click HERE for more information on research needs and proposal deadlines.
Any technical questions regarding the BAA can be sent to NOPPBAA2018@nopp.org.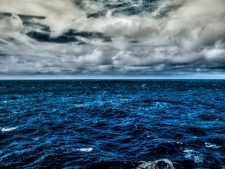 Also during the month of July, the NOPP Office was privileged to support the Biodiversity Ad Hoc meeting which continued to keep the membership up-to-date on various biological and data driven projects.
The NOPP Office also attended the Subcommittee on Ocean Science and Technology Workshop which revolved mainly around updates on each working group and implementation and work plans.
The NOPP Office will also be exhibiting at the following two conferences in the month of August:
Come by our booth to checkout our new literature handouts and learn about the program. We hope to see you there.
To stay informed of all ocean news, follow us on Facebook, Twitter, and Instagram.