NOPP Project Presents at the 2017 Group on Earth Observations (GEO) Week
During the annual Group on Earth Observations (GEO) Week in Washington D.C. representatives from the NOPP project, Marine Biodiversity Observation Network, held a side event to discuss new strategies and tools for earth observations. The two-hour side event explored evolving strategies being implemented by MBON projects and partner organizations to integrate biological observations into ocean observing systems for practical applications. Woody Turner, program manager for Ecological Forecasting at NASA kicked off the the program and reviewed NASA's support. Keynote speaker Nancy Knowlton, Smithsonian Institution senior scientist, discussed the advances in tools and automation, standardization of sampling methods and procedures which are improving marine biodiversity monitoring in situ. Gabrielle Canonico gave an overview of MBON goals and plans for next steps.
A preview of the first MBON prototype products (MBON Explorer and a set of infographics tools) developed to support UN Sustainable Development Goal 14 requirements were given by MBON product developers, Ben Best, Ecoquants, and Enrique Montes, University of South Florida. Theprototype tools use biological data from OBIS and sea surface temperature and chlorophyll from MBON seascapes in a dynamic geographic map.  In the panel discussion, Steve Gittings, NOAA Office of the National Marine Sanctuaries, Pat Halpin, Duke University, and Michael Ott, Intergovernmental Oceanographic Commission, offered perspectives about the future of MBON and value for Sustainable Development Goals and global assessments.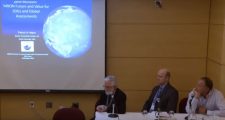 The session was organized by US MBON Gabrielle Canonico and Woody Turner, with GEO BON Marine Biodiversity Observation Network (MBON) co-chair Frank Muller-Karger. MBON Explorer and MBON infographics are built on open source technologies and are intended for use by scientists, policy makers, resource managers, national governments, and others. You can watch the full side event on the GEO YouTube channel.